SCHEDULE/CALENDAR AND REGISTRATION
Invitation
Burgess Cotillion invites you and your friends to try out cotillion at one of our dances. If cotillion is not for you, there is no fee obligation for the class. We hope you will want to join and become a regular registered member.

Our March dance is always a "guest" night. The class is complimentary to all first-timers who've never experienced cotillion. We hope the fun evening will encourage you to join us for our next season.
In addition to ballroom dance instruction, manners and etiquette will be emphasized. Come join us for some fun!
Call and sign-up now – limited enrollment!

Classes will be limited to 60 boys and 60 girls. Please submit your membership dues as soon as possible. Call 323.874.7393 or email burgesscotillion@aol.com
Registration
First step: Call or email to receive an invitation for your child. 323.874.7393 or burgesscotillion@aol.com
We will need your:
> child's name,
> the grade he/she will be in next September,
> and, your home address.
Response
Class information will be sent to you with a response card included in the invitation. Return response card, with payment, in the included self-addressed envelope.
Tuition
Tuition includes eight – one and a half hour [1-1/2 hour] classes which include:
> dancing instruction
> etiquette instruction
> refreshments, games, and prizes.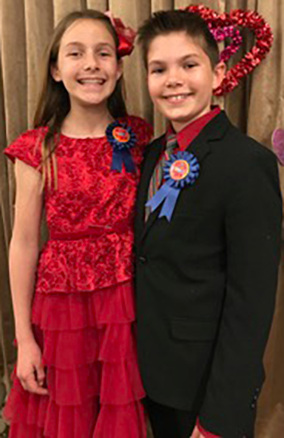 Tuition for the season is $240.
Early registration tuition is $210 if registered by September 10, 2019.
We are vendors for Sky Mountain, Excel, and Sage Oak Charter Schools – please call or email for details [please return your response card and tuition as soon as possible to reserve your child's spot].
Make checks payable to:
Burgess Cotillion 11684 Ventura Blvd, PO Box 691, Studio City CA 91604.

If payment is to be made in two installments, a $100 non-refundable deposit is due September 10, 2019, with the $110 balance due by October 7, 2019, to ensure membership. Dues received after September 10th will be $240.
Thank you for your cooperation in helping organize our classes for our upcoming cotillion season! Invite your friends to join us!

[see About Burgess Cotillion for more details]
Class Structure

Third, Fourth & Fifth Grades
4:30-6
Social, Folk
and Ballroom Dance
Sixth, Seventh & Eighth Grades
6:15-7:45
Ballroom and Current, Popular Steps
Ninth through Twelth Grades
8-9:30
Ballroom and Current, Popular Steps
Parents are Encouraged to Observe

The Burgess Cotillion 2019-2020 Schedule

October 7, 2019
"Harvest Hop"
Get Acquainted Dance
Party Dress
October 28
"Ghost Gallop" Halloween Party
Guest Night*

Costume Contest
November 18
"Sadie Hawkins Backwards Dance"

Western Duds
December 16
"The Holiday Ball" Winter Prom
Picture Night

Party Dress
January 27, 2020
"New Year's Swing:
Jump, Jive, and Jitterbug"
Guest Night* – Swing Contest

1940s Theme Dress
February 24
"King and Queen of Hearts"
Waltz Contest

Party Dress
March 23
"Hawaiian Holiday"
2nd grade guest night*

Hawaiian Wear
April 20

"April in Paris Prom"
Mother-son/Father-daughter Dances
Senior Presentations

Party Dress
Party Dress Code

Boys: Coat and tie, hard-soled shoes, no athletic shoes.
Girls: Party dress or skirt and blouse. Skirts may be no shorter than mid-thigh. No pants, bare midriffs, or strapless, please.
All: Please, no levis, levi skirts, or sandals. Exceptions are for theme dances only and will be announced when appropriate.
*Guests
A guest is a Burgess Cotillion first-timer. There is no fee obligation if a child does not like the class. However, he/she may not attend another guest night free of charge. We hope guest attendees will join for the season.