ABOUT BOBBY BURGESS AND BURGESS COTILLION
Bobby Burgess is the Cotillion Master of Burgess Cotillion. He brings his lifetime of dancing experience to his students. Bobby was a major part of early television through his performances on two of the most famous family-oriented shows: The Lawrence Welk Show and The Mickey Mouse Club.
Bobby Burgess also wrote his autobiography, called "Ears and Bubbles, Dancing My Way from the Mickey Mouse Club to the Lawrence Welk Show." The book can be ordered through www.ThemeParkPress.com or www.amazon.com.
Mouseketeers and Early Career
Bobby was the second of four children born to Janie, a homemaker, and Bill, a meat cutter, in Long Beach, California. Janie noticed Bobby's love of dancing around the radio at three years old, so she sent him for lessons at four. He excelled at tap and was paired with his first dance partner in kindergarten.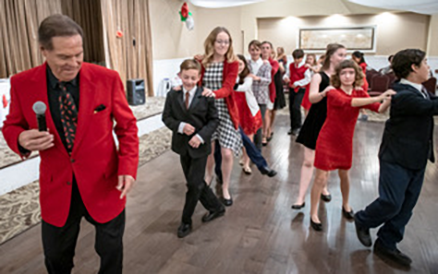 Talent shows were big and winners received wonderful gifts. Bobby brought home a washer-dryer, a fish tank and a typewriter. By the time he turned 11 years old, he had appeared in some 75 television shows in the Los Angeles area. An agent saw him on one of them, called the station, and signed him up. She sent him to Walt Disney Studios for an audition to be on a children's serial called Spin and Marty. Bobby didn't get that job, but they liked his barefoot jazz dance and signed him up to be a Mouseketeer for the new kids' show called The Mickey Mouse Club. For four years, starting at age 13, Bobby was a roll call member of Walt Disney's original Mouseketeers. As busy as he was filming daily television shows, performing at Disneyland on weekends, and touring the country in live shows, Bobby also found time to begin ballroom dancing.

Dancing
Call's Fine Arts Center was the biggest and most prestigious ballroom dancing school in Long Beach boasting a student body of 11,000 at the height of its success. Fate stepped in when Bobby found a ready-made partner there in Barbara Boylan. Bobby and Barbara vied against countless other ballroom couples in competitions waged all over the country, finally scoring a grand coup by being named King and Queen of the national Call's Grand Medal Ball. Bobby became an instructor at Call's, learning the methods and cotillion structure from the masters, laying the foundation for Burgess Cotillion as it is today.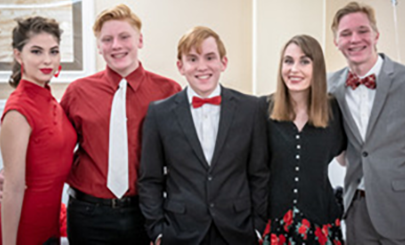 The Graduate
During the few years between The Mickey Mouse Club and The Lawrence Welk Show, Bobby graduated magna cum laude from high school, attended Long Beach State University, and made lifelong friends as a member of Sigma Pi Fraternity.
The Lawrence Welk Show
At 19, Barbara and Bobby entered Lawrence Welk's dance contest for his hit Calcutta. Bobby's specially created routine won top honors for them, netting them a guest appearance on the Welk nationwide television show in 1961. For the next few months, Bobby and Barbara choreographed new routines each week, danced live with the band at the Hollywood Palladium on Friday and Saturday evenings, and appeared on the live Welk TV show that week at Mr. Welk's invitation. "I was practically forced into hiring them," recalls Welk. "Every time we recorded a new song, they'd create a special dance routine, and the viewers' reaction was tremendous. Actually, they really created a job with us for themselves!" Mr. Welk hired them on the air six months after that first contest appearance.
Dance Partners
When Barbara left the Welk show to be married, Bobby found his next wonderful partner, Cissy King, in Albuquerque. That partnership lasted for twelve years. His next partner, Elaine Balden, hailed from Dallas. He dances with Elaine still, performing live on tour and making new Lawrence Welk television specials. Each partner had a different special talent. Barbara was the sweet girl next door. She was special because she and Bobby learned to ballroom dance together, so their movements matched perfectly. Cissy was the best at doing acrobatic lifts. Elaine brought her love of Latin dancing to Bobby. Bobby and his three partners kept ballroom dancing alive on television before the days of Dancing with the Stars.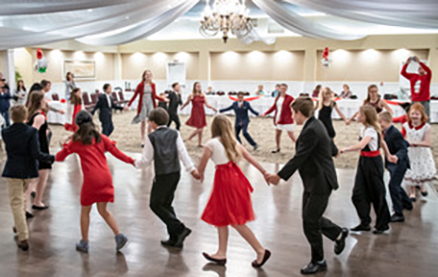 Marriage and Family
Lawrence Welk called his singers, dancers, and musicians his musical family. Bobby knew Kristie Floren, a daughter of Welk's Happy Norwegian accordionist Myron Floren, from the annual family Christmas shows. Their relationship grew from acquaintances and friends to husband and wife when they married on Valentine's Day, 1971. They now have four children' Becki, Robert, Wendi and Brenton, and seven grandchildren. The entire Burgess family works together in Burgess Cotillion. Bobby says, "My kids have become wonderful dancers themselves and enjoy teaching just as much as I do."
Dancing Through Life
Through the years, Bobby has had marvelous experiences in the entertainment field. He and his dancing partners performed at all the top theaters-in-the-round in the East. They danced for thousands at countless state and county fairs across America. A favorite memory of Bobby's is dancing with Barbara at a state fair and looking back at his back-up band led by Count Basie at the piano. They have also performed at Bally's, Las Vegas, 17 years at Harrah's Lake Tahoe, dance conventions and private club dates across the country, and of course, at the Lawrence Welk Theatre in Branson, Missouri.
Television and Radio
Besides performing, Bobby has had interesting experiences being interviewed by well known personalities. The list includes Johnny Carson, Regis Philbin, Mike Douglas, Mark and Brian on the radio, and Larry King, who asked Bobby what his favorite ride at Disneyland was. More recently, Bobby has worked with Extinct Attractions, a group who researches and documents original Disneyland rides and attractions that are no longer at the park. Bobby shared his history and memories with them. He also remembers teaching a quick tap dance down at Disney World to a young Tom Bergeron, then host of Good Day, Boston. Bobby is very proud of his lifetime achievement award given him by Dance Masters of America.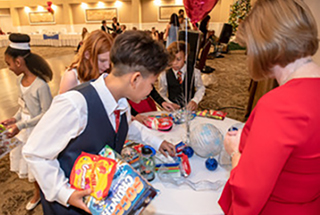 Bobby can still be seen weekly on PBS stations that continue to carry The Lawrence Welk Show. The Welk show has been on weekly television since it began locally in Los Angeles in 1951. It went national on ABC, then became a pioneer in syndication. In 1987, the show was picked up by 290 PBS stations which continue to play older shows with current interviews and news of Welk stars. The Welk performers have filmed several new specials which never fail to bring in the most pledges during pledge drives. Bobby travels the country appearing at local stations to take calls and dance with the local hosts. He keeps in touch with his Welkmusical family and is very grateful for his association with two family institutions. Mr. Welk said, "I never have any trouble with Bobby because he was raised by Walt Disney."
Mouseketeer Reunion
"Who knew we'd still be singing and dancing together 50 years later!" Bobby remarked when he and nine original Mouseketeers got together in 2005 to perform at Disneyland for the 50th anniversary of The Mickey Mouse Club. Bobby has traveled as a spokesman for Disneyland across the United States and down to Australia where he was originally quite a matinee idol as a young, teenage Mouseketeer. He and his Mousekepals filmed a TV special for the 25th anniversary of The Mickey Mouse Club and appeared live at Disneyland for several important anniversaries of the opening of the park. At the original opening in July of 1955, nobody knew what a Mouseketeer was when they came dancing through the gates of Sleeping Beauty's Castle. Bobby treasures his memories and friendships from the years of association with both Disney and Welk.
Burgess Cotillion
Now, Burgess Cotillion classes receive the benefit of Bobby's lifetime of dancing experience. He also leads cotillion classes at three middle schools in Palos Verdes, California and instructs the prestigious high school group called the Assembly, also in Palos Verdes. "Dancing has been great for me," says Bobby. "It is rewarding to pass on my knowledge to my students."